WS6Z's Simplex Mapping System
This is a web interface wrapped around a database that lets individuals enter information about who they heard during something like a simplex net. This is useful for determining where holes are in critical communication networks, and other connectivity information. (And, it generates pretty KML maps that are simply fun to play with).
The good news is that the new system allows multiple groups to all have their own area of the database to play with. The bad news is that there is barely any documentation yet. But hopefully the system is somewhat intuitive.
It's fairly simple: you log in with your group's login password, enter information about where you're at physically during an event and then click on check boxes for each person you hear and optionally fill in how good their signal was. After an "event" is over, you can download the results in a number of different formats including a simple connection "bubble diagram", a google earth/maps KML file, and a CSV export.
The system can be accessed from: http://simplexmap.hamtools.org/
If you want to:
play with it: Feel free to do so using the "Demo Group". Email me at wes ATAT ws6z.com to get the demonstration password(s). If you enter the admin password you'll get extra features, like the ability to create new events and bulk enter a bunch of callsigns to ensure they appear as checkboxes before an event so people don't have to hand-enter them.

Feel free to add callsigns of your affiliates, etc, to test out the system. Pretend in your mind that you were listening to a net and enter a few people and the signal strengths they may have had. Then, after you've finished, you can go into the "just download the results" screen and download the new connection maps based on your modified data.

use it: If you decide that it does look useful and want to have your own "group" to track your own group's communication network, let me know and I'll create a group for you to "own".
hear more about it: If you want to ensure you hear of future updates regarding the system, reply and let me know and I'll add you to a mailing list so you'll get updates when new features are deployed (some updates to improve the mapping export are likely coming very soon, eg, so map lines can be color coded based on specified criteria).
provide feedback ("X is broken; I need to be able to X"): Please mail me at wes AT ws6z dt com.
Chat on the air about it: I am regularly listen to the 147.195 repeater, the 147.000 Vacaville repeater and the bark repeater (146.970). You're welcome to bug me on the air anytime you wish as well. I'm on mostly in the early mornings through the afternoon. Night time is very hit-n-miss though.
Screen Shots
A Export to KML and viewed with the automatic link to Google Maps: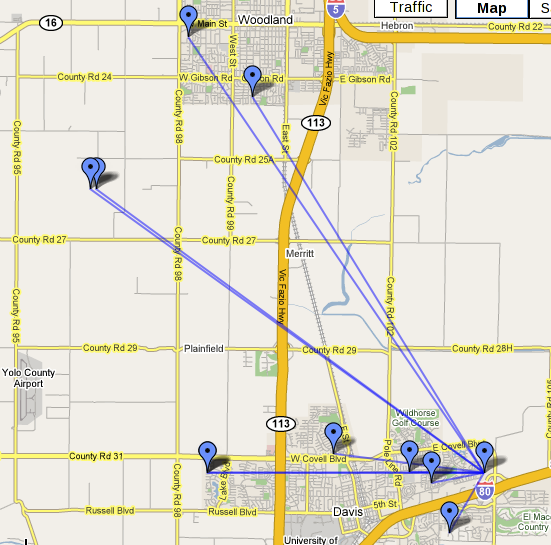 A simple bubble plot: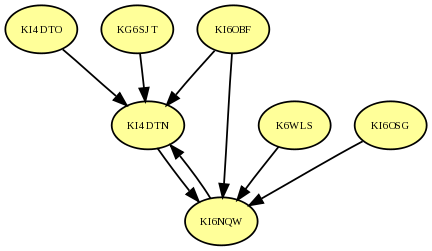 ---
Wes Hardaker Last modified: Mon May 25 16:03:24 PDT 2009